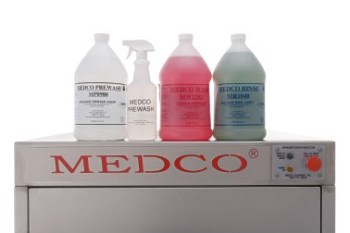 Medco Equipment, Inc.
Manufacturers of Industrial Washers
30 Hilltop Road * Houlton, WI 54082
Phone (800) 717-3626 * (715) 549-6941 * Fax (715) 549-6950
CHEMICAL LIST
"Formulated Just for Medco"
Safe, Nontoxic, Non-corrosive, Biodegradable, Rust Inhibitor
Low Temperature, Low Sudsing, and Lemon Scented
Approximately 300 Washes Per Gallon of Wash & Rinse!
Reduces bacteria by 99.9% - "Documented Labratory Proof"
Low Cost - less than 5 cents a wash!
Human eye and mouth tested - "No ill effects"
Over 21 years of commercial use with no reported problems
Printed label and color coded - pre-wash is white, wash is red, rinse is blue
Paper MSDS enclosed in pouch on every gallon
Locking safety caps on every gallon
Green containers - made with recycled material and is recyclable
Over 20,000 gallons sold by Medco every year as a safe, proven, effective product
Medco PRE-WASH
(Spray on for heavily soiled areas)
(MP 2017)
Case
(4 gallons)
Medco WASH
(Auto. injected into washer)
(MW 2282)
Case
(4 gallons)
Medco RINSE
(Auto. injected into washer)
(MR 1040)
Case
(4 gallons)
+ PREPAID UPS GROUND SHIPPING CHARGES
All chemicals sold by the case. Cases can not be split. MSDS accompany all orders.
Expect 3-5 working days for delivery.