Multipurpose Washer Model 64x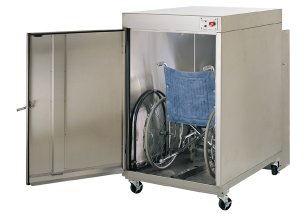 New Wheelchair Washer Model 64x
Newest on the market
Tallest on the market
Safest on the market
The new Medco Model 64X (extra tall) will sanitize "all of your equipment"
Best in the world!
Over 60 inches tall
Perfect for high-back and Gerry chairs
Free trial
Free delivery
Safest washer made
Washes 2 chairs at a time - up to 20 wheelchairs in one hour!
Multi-purpose washer cleans commode chairs, shower chairs, and other durable medical equipment
300 washes per gallon of wash and rinse
Five-year warranty on all parts
Rust-free wash system
Fresh water cycles - no recycled water used
Solid-state electronics - no float switches, fuses or filters to replace
Free start up chemicals
Low maintenance design
CE, C/UL & UL Listed
#1 in the industry - over 2,000 customers
Wheelchair Washer Model #64 X (Extra Tall)
(washes and sanitizes 2 wheelchairs in 5 minutes with one button operation)
Dimensions: Length 58½" x Height 60½" x Width 34¼"
Door opening: 30" wide 47" high
U.S. Government approved - FSS# V797P-4454B
Rust-free plumbing - no galvanized pipes
Two rust-free pumps - thermally protected, UL listed (¾ hp wash pump / ¼ hp drain pump
5 year wall-to-wall warranty (parts)
300 washes per gallon of wash and rinse
Washes two chairs at a time / 5 minute cycle also cleans commode chairs, shower chairs, walkers, carts, etc.
Solid state electronics - no fuses
Fresh water system for wash & rinse cycle - no re-used water
16 gauge stainless steel construction
Four 360 degree swivel heavy duty castors with brake
45 second maximum water fill time - fail-proof non-mechanical (no over flow possibilities)
Low maintenance - no filters to replace
One button operation
Two 20 foot heavy duty hoses included
1 gallon detergent, 1 gallon rinse agent, and 1 quart spray pre-wash included
Set-up and instruction packet
Medco EQUIPMENT - WHEELCHAIR WASHER
MODEL # 64X
Overall Exterior Dimensions:

Length - 58 ½"
Width - 34 ¼"
Height - 60 ½"

Front Door Opening:

Width - 30"
Height - 47"

Inside Wash Chamber Dimensions:
(Useable Space)

Length - 47"
Width - 30"
Height - 48"

Warranty:

5 year parts

Price: $295.00 Month-to-Month Rental.

Please call for current Lease/Purchase & Purchase Prices.
Includes free trial, delivery & chemicals.
Lifetime Warranty on all rentals (parts).
Discounted demo units may be available with full warranty.

Washer use life is 40 plus years.
Medco's new Model 64X is a work of art.
We have been building washers since 1994 and have over 125 years of combined craftsmanship experience. We have fabricated over ½ million lbs. of top grade stainless steel. Medco washers are washing over 3.4 million wheelchairs yearly. One look at the Medco washer 64X will tell you everything you need to know. It will be your next purchase.
"We build and sell a great washer - but our Customer Service is even better" ....
Phillip Brooksbank
Co Founder
President