Installation Requirement For
Medco Equipment Washer - Model #64x
No special plumbing or electric is needed
Standard garden hose hook up
Standard electric plug in
Will easily push through any standard 3' doorway
It is a great asset to your infection control program
Left side of Medco's Model # 64X (extra tall)
Heavy duty solid brass hose connections
Top connector is for the drain hose outlet (blue)
Bottom connector is for the hot water fill hose - 110 degrees max (red)
Dimensions: Washer dimensions are roughly 58 ½" in length, 34 ¼" in width and 60 ½" in height. A level area is needed.
Water supply: A hot water supply - 110 degree maximum temperature, equipped with a standard male garden hose fitting, two 20 foot heavy duty garden style hoses are provided. A high efficient 50 gallon water heater or an on demand in line water heater will do. The Medco washer uses 9 gallons of water per 5 minute cycle.
Note: Hot water source must deliver a minimum of 4½ gallons in 40 seconds. The Medco washer does not heat the water.
Drain: The Medco washer is equipped with a ¼ hp drain pump, a sink or floor drain will do.
Note: A 20 foot garden style hose is provided. The drain source must accept 4½ gallons of water in 40 seconds.
Electric: A standard 110 volt outlet with a GFI supported by a 15 amp circuit is required. The Medco is equipped with a 9 foot heavy duty power cord.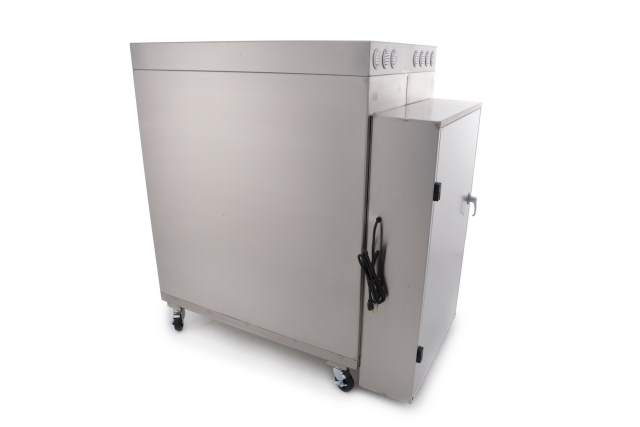 Right side of Medco's Model # 64X (extra tall)
9' heavy duty powercord
Locking rear door handle for chemical storage
4 heavy duty locking swivel castors (portable) - easy to push in and out of tight spots